Bosch Engineering Scholarship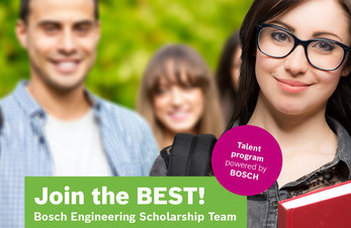 The BEST Scholarship Program provides the opportunity for master students in engineering fields to pursue their studies at the highest level. During 2 years, along with the expansion of their academic knowledge, students can also develop their individual skills within the framework of a training plan defined by Bosch.
Your contribution:
Plan to start your Master studies
TDK assignment
Monthly consultation opportunity offered by Bosch Mentor
Participation on different trainings
Development your skills based on specific training plan
Yearly presentation for scholarship committee
Qualifications
What scholarship offers you:
Attractive benefits
Specific training plan (soft skills, hard skills)
Support TDK work with needed tools
Application information:
Start date: February, optionally joining later into the program
Duration of the program: 2 years long
For apply: English CV, Motivation letter
Professional study or research
Application deadline: 19 January 2022.